1940s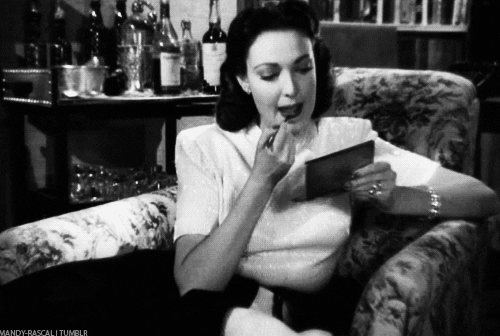 ---
In a world of war, costume jewelry was an important boost for feminine morale in the 40's when fashion was under ration and austerity held sway.
Patriotic jewelry boosted the spirit both at home and abroad with red, white and blue being a symbolic and emotional color combination, the colors of both the American Stars and Stripes and the Union Jack.
As Austrian Swarovski crystals became harder to source, companies found ingenious ways to give showy effects to their jewelry lines such as using polished Lucite instead of gemstones.
Platinum was an impossibility as it was essential for the production of armaments, so gold became the principal metal, although lighter, thinner sheets were used.
For those that could not afford pure gold, vast quantities of sterling silver were plated with gold to create vermeil, which was easily mistaken for the real thing. Gold vermeil in the 1940s was produced using the electrolytic process.
The lack of precious materials during the war caused an increase in sterling silver popularity as it was one of the few precious materials allowed for use in costume jewelry. This lasted between 1943 and 1948 with many jewelry manufacturers embracing the change during the time (such as Trifari, Coro and Corocraft, Eisenberg, Mazer Brothers, Pennino Bros., and Boucher, Marcel to name a few.)
Large brooches were popular but many were hollow inside. Brooches up to 3-4" were not unheard of.
Snake or gas-pipe chain, a sinuously ribbed flexible gold tube, became the height of fashion.
The jelly belly style for figurals became very popular in this decade.
Floral Motifs were very popular.
Taking a lead from Chanel, the whole nature of fake changed; instead of imitating the real, it glorified in the artificial - no real gem could assume such gigantic proportions. So, in the 40's, plastics became completely acceptable as a malleable material that could assume any form a confident woman was prepared to wear; it was molded into Scottie dogs, cowbows with lassos, huge necklaces of bright berries or dancing harlequins.
Many skilled refugees fled to Europe to work for firms such as Trifari, Monet, Pennino and Napier, and Rhode Island consolidated its position as the center of the jewelry-making industry in the US. Since many European jewelry manufacturers turned over their factories to the war effort at the time, it allowed American firms to begin dominating the market in this decade.
Most jewelry with rhodium plating was produced after World War II, helping determine the age.
Jewelry designs began to coordinate with the movie industry.
Centrifugal casting was developed, allowing for a greater intricacy of shapes and finer workmanship.
page revision: 2, last edited: 06 Feb 2015 22:00