Coro And Corocraft
Highlights of Coro & Corocraft:
For the most part, pieces marked "Coro" are of good quality and originally targeted the middle and lower sections of the market.
The "Coro" mark was used for the first time in 1919
Coro Craft is their best known upmarket brand.
In 1931, Adolph Katz patented the interlocking catch mechanism for Coro Duettes.
Double-pin Coro Duettes are much sought-after and are a collecting field in their own right
Began in 1901. Production ceased in 1979 (although continues at Coro Inc. Canada until the mid 1990s)
History
The name CORO is a contraction of an earlier trade name COHN & ROSENBERGER and the company has been around a very long time, since 1902. CORO was considered within the industry itself as the leader in sales and profits. This happy circumstance could be directly traced to the fact that when the passion for jewelry flowered, Coro was ready, it had the room to make enough of it to assure profits. During the Depression Coro built itself a huge plant in Providence which some scorned as a waste of money, but after WWII it found itself in the unique position of being 'the mostest with the bestest'. Given the size of its physical plant, its equipment, experience and shrewd business heads, Coro surged ahead of competition.
The factory produced thousands of different designs each month and based on the number of design patents submitted on behalf of the company in any twelve month period this does not seem unreasonable. The work ethic was never more pronounced than in the number of potential jewelry pieces based on these hundreds of designs created month after month, year after year.
Because of this really enormous output CORO jewelry is relatively easy to find today. Its quality varies, the company made something for everybody regardless of purse or taste. In the 1940's, its highest price line was COROCRAFT, but it also made jewelry so inexpensive it sold through 5 and 10 cent stores. Certainly all, or most of it, was marked with the company trademark, which varied with quality and type.
CORO's success is also the success of Royal Marcher, dynamic sales manager who masterminded the progress of Coro in those years, reputedly a whirlwind of energy who made instant decisions which almost always worked well for the company. Marcher was Horatio Alger in modern dress, he began as an office boy at 13, became a salesman and at 22 was on his way with COHN & ROSENBERGER. If ever an industry had a fairy godfather it was Marcher with his RUSSIAN ANTIQUE jewelry inspired by a swinging chandelier which had a gold finish and gleamed as it caught the light. This line with its colored stones sold phenomenally and the giant costume jewelry business was born. Regardless of inspiration those colored stones did indeed take the world by storm and kept 2,000 or more employees busy.
Coro Duettes
Coro created its own version of the double clip, the Coro Duette, in 1931. The initial designs were often Art Deco in style and decorated with Pavé-set clear rhinestones. Coro's greatest success, however, came with the creation of its figural Duettes, featuring flowers, birds and other animals, and charachters such as cherubs. Mostly made of vermeil sterling silver, these were decorated with colorful enameling and crystal rhinestones. Each Duette had a name and was sometimes sold with matching earrings.
Coro Duettes were popular throughout the 1940s, but were waning in popularity by the early 50s, although they were still being marketed in smaller, lighter versions. They are now avidly collected, particularly the unusual and complex pieces such as the "Quivering Camellias" Duette, featuring delicate trembler flowers mounted on springs.
Quivering Camellias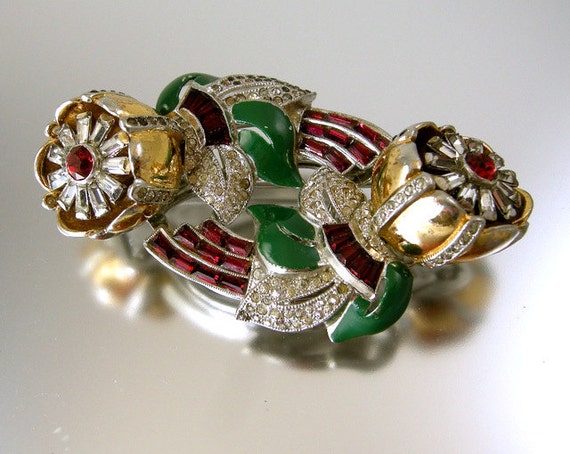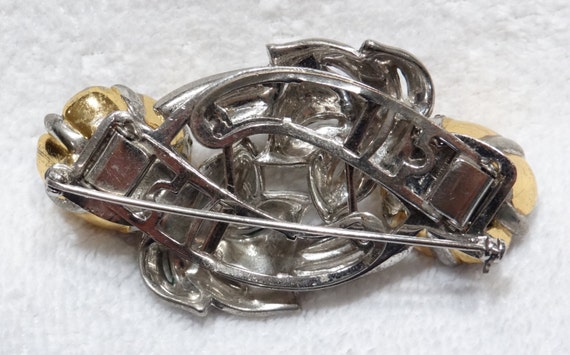 page revision: 8, last edited: 03 Feb 2014 19:55